Guaranteed Asset Protection (GAP)
A car will depreciate up to 20% in value the minute you drive it off the dealer's lot. If you finance a vehicle, you may owe more on it than it's worth. If you are in an accident that is serious enough to total the car or the car is stolen, your insurance company is not going to write you a check for what the car was worth before you took it off the dealer's lot.
If you find out after an incident the vehicle's cash value is lower than the amount you owe, you are still responsible for the difference. This situation is called being upside down on the loan. You owe more on the asset than it is currently worth. GAP coverage is designed to bridge the gap between the outstanding loan balance and the cash value of the vehicle.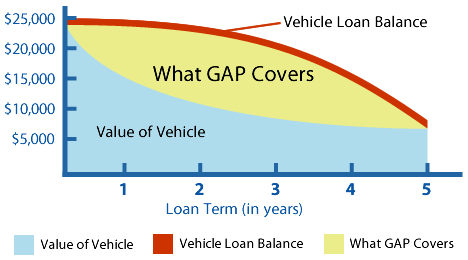 GAP Protection
For new and used vehicles sold at new-car franchised dealerships

Simple rate structure

Maximum finance term of 84 months

Amount financed can be up to 150% of MSRP on new vehicles or NADA retail value on used vehicles

Award-winning service

Backed by one of the nation's oldest and largest insurers
Customer Benefits
GAP AdvantageSM
Provides up to $50,000 to pay the remaining loan or lease balance

Covers up to $1,000 of the insurance deductible
GAP PreferredSM
Includes all the benefits of GAP AdvantageSM, plus:
$1,000 discount allowance on a replacement vehicle purchased at the selling dealership (state restrictions may apply)
Please refer to the actual GAP waiver for current details regarding specific coverage, benefits, exclusions and state restrictions.